Discover more from read, eat, repeat (with emily fiffer)
recipes, book recs, musings, etc.
Capsicum + What's in a Marriage
Charred Poblano Spread + Light Years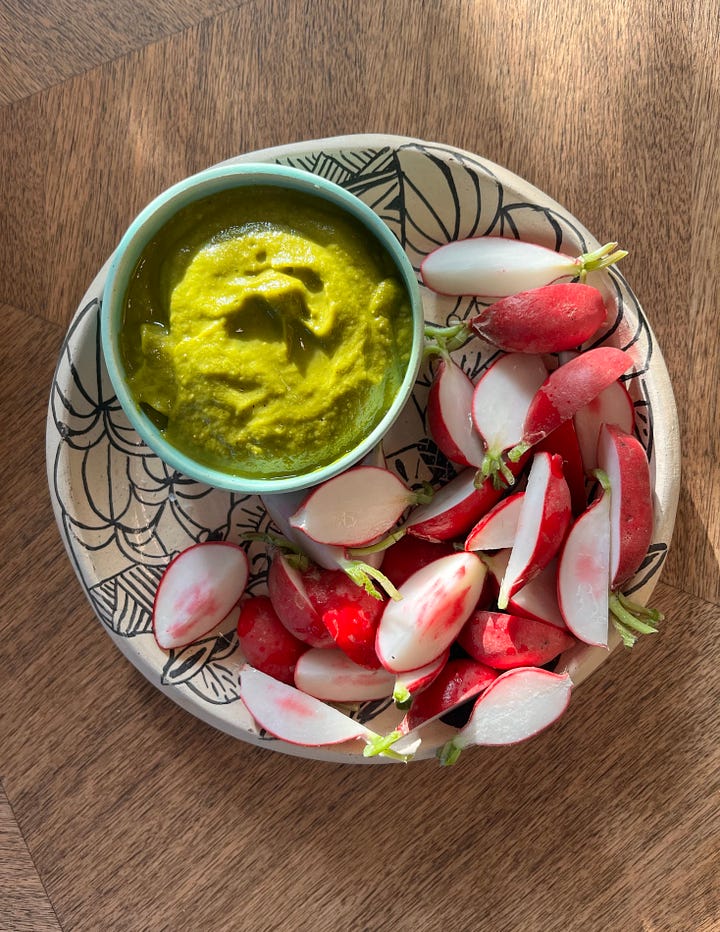 Read
Light Years by James Salter, pub. 1975
Buy: Bookshop.org or your local used bookshop
The best kind of book is one whose characters leave imprints, echoing in your day-to-day far after you've turned the final page. So it is with Light Years, my gateway James Salter novel about family, marriage, middle age, home, youth, following your desires and so much more. Also, surprising no one, it's about femininity – the power and innate strength required to move through the world as a woman in full expression of who she is at her core. 
The novel follows a family and their community of friends throughout New York City, upstate New York and Europe as they age and change over the course of a decade-plus. The matriarch, Nedra – wife to Viri, mother to Danny and Franca – is a character so fully brought to life that I found myself yearning to attend one of her dinner parties, watch her get dressed for an evening, be a fly on the wall during late-night conversations with her husband. Elegant, independent and nurturing, she simultaneously cares for her family and prioritizes her own needs (even when that means abandoning the confines of her marriage for her personal pleasure). She and Viri marry young, innocent and hopeful; by the time we find them, they've phased into passionlessness, though their connection isn't without depth or love, and their community of friends (each of whom Salter imbues with an individual richness not ordinarily gifted to side characters) believes their bond is strong. Both Nedra and Viri stray, however, and Salter gives you glimpses into both of their affairs through their eyes. Each suffers from a deep lack of meaning (a common experience for people in their 40s…so I've heard!): Nedra craves autonomy and freedom, even if that means trading comfort for poverty; Viri, an architect, feels he's never achieved enough professionally and it takes a toll on his sense of self. Their friends – a rollicking cast of artists – provide humor (a character named Arnaud specifically adds levity and humanness) and augment the undercurrent of dissatisfaction and the lengths people go to to find happiness – or avoid discussing it altogether, preferring a life of chosen ignorance. 
Salter's sentences are short and Hemingway-esque. It took my lyrical-prose-loving-brain a moment to relax into, to appreciate its rhythms and depth. Soon, each brief sentence, read in succession, revealed itself to be a rich tapestry of complex emotion, things left unsaid, and acute observations about social dynamics and interior lives. Salter's talent lies in inviting you into the worlds people build, and Nedra's is nothing if not abundant. I love reading about the meaning of home and the ways in which (mostly) women care for their surroundings, crafting spaces of beauty where others can commune; it doesn't hurt that Nedra is a consummate entertainer, dresser-upper, late-night-lover, afternoon wine-appreciator. Each scene offers multiple moments of indulgence, aestheticism, reflection. 
Years pass and Nedra and Viri's world changes. Their girls grow up, leave the house and navigate early womanhood: the benefits and impediments of living with physical beauty; redefining who and what makes a home; and loss of innocence. Salter gives you both Nedra and Viri's perspectives on this time period – the shifts that take place, how each is affected – without bearing judgment. Authorial grace at its finest. I felt wrung out after reading this one and am excited to dig into more Salter; dip your toes in with me!
Eat
I couldn't call myself a true Californian transplant until I'd purchased a tortilla press (highly recommend — a cheap, easy workhorse). Since then I've been perfecting my version of Taco Night, which is, in my opinion, one of the most fun entertaining themes imaginable. Imagine the condiment situation, people! Obviously, my idea of Taco Night involves myriad vegetables, zero meat and isn't traditional in any way. I'm including one of the recipes below, but I'll give you a rundown of what else I usually serve, and would be happy to provide any / all recipes to those who care! Just leave a query in the comments.
The ideal (Efiffer) Taco Night™ includes:
Homemade tortillas (purchase or prep masa dough and press at home!)
Roasted maitake mushrooms with sumac, aleppo and urfa oil
Braised greens (kale, chard, collards) with spring onions, cumin and lime
Roasted tomatoes with whole garlic cloves
A raw slaw — most recently it was tiny tomatoes, raw corn, shaved cabbage, nectarines, spring onions, cilantro and a limey vinaigrette
Chipotle aioli
Salsa macha
Avocado
Limes
Good chips
And the newest addition (which is today's recipe): Charred poblano spread!
Charred Poblano Spread
3 poblanos
1 jalapeño
8 tomatillos, halved
1 white onion, quartered
Juice of 2 limes 
½ cup chopped cilantro (stems included)
Evoo
Sea salt
Preheat your oven to 350F and your grill to 500F. (If you don't have a grill, you can char the poblanos on your stovetop. It's messy but worth it! Turn on your burner and place the poblano on the flame. Char it, turning with tongs, until it's completely blackened, then follow the next recipe steps.) Place the poblanos and jalapeño on the grates and grill until completely blackened, turning to ensure you're getting every side. Immediately transfer the peppers to a bowl and cover with a plate to steam for 10 minutes. Meanwhile, place the tomatillos and onion on a baking sheet. Drizzle with oil, season with salt and roast until the tomatillos are completely collapsed and the onions are caramelized (I didn't time this but it *felt* like maybe 35 minutes?). Remove the onion skins.
Now, peel your poblanos! Remove the stems and charred skin to the best of your abilities and add the flesh to a blender. Do the same with the jalapeño. I also removed the jalapeño seeds because I'm a caucasian wimp, but if you like a lot of spice, keep them in. I salute you. Throw that in the blender along with your tomatillos, onions, lime juice and cilantro. Season with sea salt and blend until emulsified. Now taste! You're looking for smoky, spicy and acidic. Add lime juice or salt to your liking. Serve with chips and radish slices, and smear liberally on your tortillas.