Discover more from read, eat, repeat (with emily fiffer)
recipes, book recs, musings, etc.
Luminous Legumes + Volcanic Revelations
Summer Socca + This Ragged Grace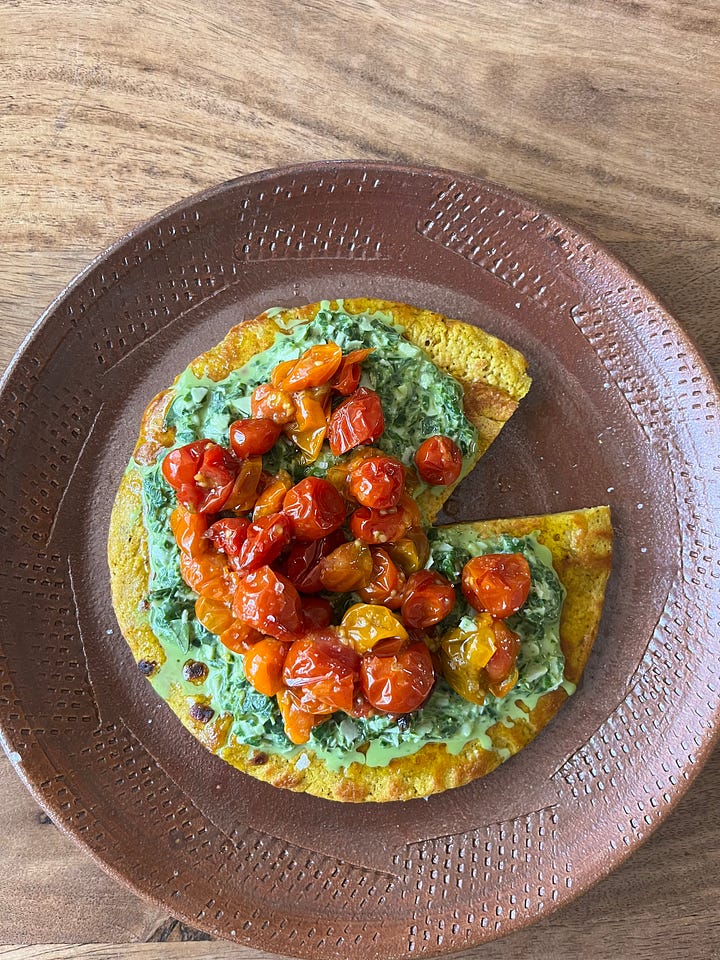 Read
This Ragged Grace by Octavia Bright, pub. 2023
Buy: TBD*
I likely never would've heard of This Ragged Grace if I weren't already a longtime superfan of the podcast Literary Friction, a monthly conversation about books between Carrie Plitt, an American book agent living in Oxford, and Octavia Bright, a British writer and broadcaster living in London. I hungrily look forward to Octavia and Carrie's conversations about books, life and culture, so when I heard Octavia was publishing her own memoir I couldn't wait to get my hands on it. I got my copy a few days after it was published in the UK and inhaled it. (Side note: I have a stealth UK Amazon account for any UK books I don't want to wait a year-plus to read. I hate myself for buying books on Amazon but find it impossible to wait and haven't found another way. If anyone has any recommendations that don't involve self-control, I'm all ears!)
But wow. This book. Spending years with Literary Friction in my ears has made me familiar with Octavia's voice – her cadence, clarity, obsession with theory, free spiritedness – but I wasn't as well-versed about who she is – her backstory, proclivities, darkness. The memoir, which takes place over the course of 7 years, is a distillation of her recovery from alcoholism (with an emphasis on the recovery rather than the spiraling downward; no Trauma Plot here), along with the parallel story of her father's descent into Alzheimer's. Sound dark? I cried at the end, the kind of tears that feel like an empathic release rather than straightforward sadness. The grief felt earned. 
When you read this one, get ready to go deep. Octavia wrote her doctorate thesis on hysteria, Spanish cinema and Louise Bourgeois; in the book, she quotes and references philosophers, writers and artists, pulling and tying threads back to various themes: the losing of and rebuilding of a self, grief, feminism, growing up, love. Throughout, you'll spend time in Margate, New York, London and Italy, trailing Octavia as she first tries to escape herself (via substances), then soberly attempts to flee her predicament (her father's illness). I can't underscore enough the parallels she draws between the absolute devastation of watching someone disappear while simultaneously attempting to reconnect with who she is in sobriety. Death and rebirth, literally and figuratively. 
I imagine it's more indulgent to write a memoir about alcoholism that dwells mostly in the darkness. Octavia sidesteps that trap, pushing further and digging into what it looks like to actually heal. She invites you inside her head, into her loneliness, depression and desire to run away, analyzing what it looks like to put herself together after years of recklessness. The only other writer who's successfully done this that comes to mind is Mary Karr with Lit, a forever favorite that you should read if you haven't already (but please go in order: The Liar's Club, Cherry, Lit). This book is a feat; I hope you read it.
*I know it's uncouth to recommend a book you can't purchase in the US yet. But I'll mail it to whoever wants to borrow it, and then you can mail it onto someone else – we can create a book chain of sorts. (I'm serious!) In the meantime, tell everyone you know about this book. According to Octavia (who I DM'ed to find out the US publication date), it's notoriously difficult to break into the American memoir market. Americans have enough BS to deal with; don't keep good memoirs from us, too! 
Pairs well with: cold plunges, museum days, teatime, literal and spiritual spirals
Eat
While we're on the subject of British podcasts, have you ever listened to Off Menu? It's a wacky one to recommend to a group but I love it: Two comedians bring in famous guests to a fictional "Dream Restaurant" where they choose their favorite drink; papadums or bread; starter; main course; side; and dessert. Not a novel concept, I know, but the conversations are funny and insightful, and you learn so much about people's eccentricities. (Breaking news: Florence Pugh is obsessed with a chilled glass.) After a recent bout of listening, I played "Dream Restaurant" with Aaron (boyfriend) and it was hilarious and nostalgic. Our conversation took us down a path of recounting our favorite meals while traveling, several of which have taken place at Indian restaurants across London. That conversation inspired this recipe.
If I were to write a thesis it might be called Chickpea Flour: Unknown Hero. This mighty underdog truly does it all, and it especially shines in socca (aka chickpea pancakes). Socca couldn't be easier to make, and basically serves a vehicle for spices and toppings. I skew Indian here, but a few other ideas include: garlicky sheep's milk yogurt with pimenton-roasted carrots and pistachios; whipped tahini and roasted mushrooms; stewed greens studded with paneer or feta.
Notes:
Vadouvan is a French colonial derivative of Indian masala. It's one of my favorite spice blends of all time. The best ever is from Villa Jerada, but looks like he's temporarily out of stock (it's worth checking back). Try La Boite, another beloved spice vendor, in the meantime.

I cooked this in an 8" pan; if your pan is bigger, add more batter to fill the diameter.
Socca with Vadouvan, Roasted Tomatoes + Basil Chutney
Serves 2, plus leftover batter
For the Socca
125 grams chickpea flour (aka gram flour)
225 mL (1 scant cup) water
½ teaspoon Kosher salt
½ teaspoon Vadouvan
In a mixing bowl, whisk everything together until it's clump-free. Cover and refrigerate for a few hours or overnight. (This is an important step; the chickpea flour needs to absorb the water.) While the batter rests, make the toppings.
For the Toppings
1 cup Roasted Tomatoes
Basil Chutney (recipe below)
Maldon
Basil Chutney
3 tablespoons coconut milk (I love Aroy-D)
1 tablespoon coconut yogurt (I love Cocojune; look for something that ideally only contains coconut and probiotics)
Juice from 1 lemon
1 tablespoon evoo
1 cup tightly packed basil leaves
Maldon
Add everything to a food processor and blend until the basil is broken down (I like to keep a bit of texture here). Season with Maldon and taste. You're looking for slightly sweet, bright and punchy. Set aside while you cook your socca.
To cook the socca: Set a well-seasoned cast iron or nonstick pan to medium heat and add a glug of olive oil or knob of ghee until shimmering. Add ½ cup batter and roll the pan until the batter fills the bottom. Let the pancake cook until the edges are crisp and the bottom appears golden. Carefully flip and cook until the other side looks the same.
To plate: Smear the chutney atop your pancakes. Add a few spoonfuls of roasted tomatoes and a sprinkle of Maldon. Bon appetit!