Discover more from read, eat, repeat (with emily fiffer)
recipes, book recs, musings, etc.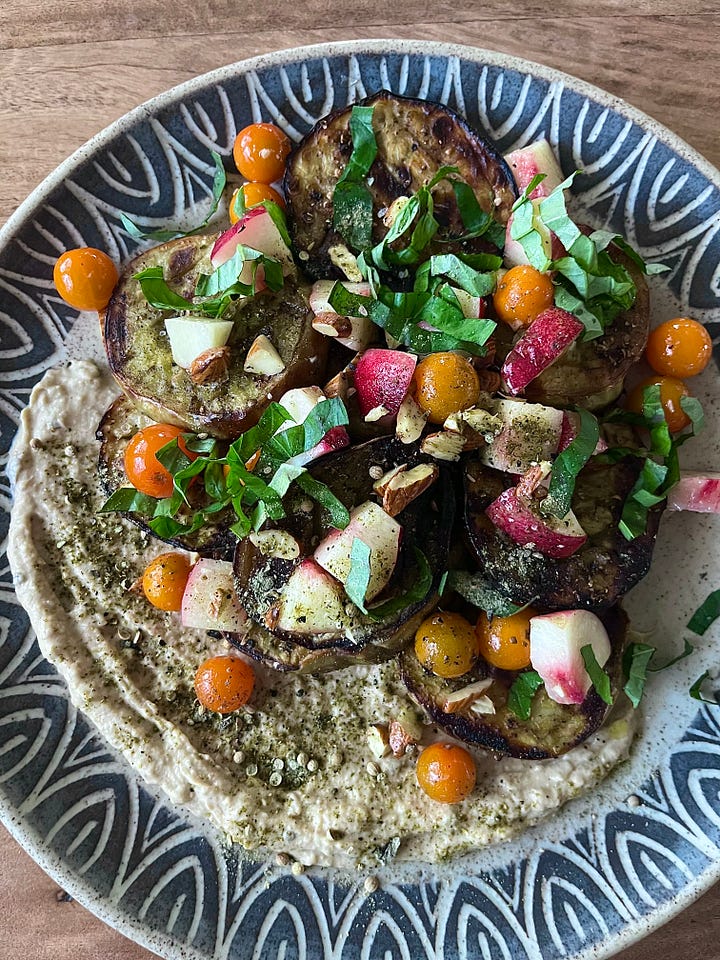 Read 
O Caledonia by Elspeth Barker, pub. 1991
Buy: Bookshop.org or your local bookstore
This is a PSA to visit bookstores every chance you get – especially while traveling. On a recent trip up north, I made a pit stop at one of my favorite bookshops in California, Point Reyes Books. Is it hyperbolic to say the selection is astonishing? For me, it is the ideal bookstore experience: expertly curated by readers with a knack for digging up unsung, underrepresented, under the radar authors. Never would I ever have stumbled upon O Caledonia if it weren't for this exquisite shop. After reading the introduction, a fawning ode by Maggie O'Farrell (you must know by now she's a favorite of mine), I knew it would be special. 
And, shit: Is it ever. Published in the UK in 1991, lost and then republished in the States in 2022, it's one of many examples of older books written by women that disappeared and, years later, have been lovingly revived. The novel is sort of Edgar Allen Poe Jr.-meets-I Capture the Castle, aka ideal subject matter for someone with a *lightly documented* obsession with all things British, female, and flora / fauna, who fears capital-H Horror yet isn't afraid to lightly dabble in darkness. 
This was Barker's sole novel. An esteemed journalist, she published O Caledonia at age 51, drawing from her own life to build Janet's (her main character), which takes place in a castle in the Scottish countryside. There, her parents set up a private prep school for boys in order to educate their daughters among what they deem the superior gender. (This is true to Barker's life: She was the only female member of an all-boys prep school run by her parents and was tormented endlessly, mirroring her heroine.) 
Much like O'Farrell's gorgeous The Marriage Portrait, this book begins with the threat of death, then unspools to the beginning, rewiring the life of its main character. Janet is an adolescent: awkward, oriented towards the eerie, bookish, bright, frizzy. She's an outcast both within the confines of her family, who are cruel beyond measure, and among her peers, who are put off by her distinct uncoolness (or, if you're cool…her coolness). When Janet is given a doll and pram to play with as a little girl, she throws a fit and converts it into a carriage for her cat, piling it with wet leaves and other natural materials, trading the trappings of femininity for something more feral. 
After we meet Cousin Lila, an aging spinster with a penchant for whiskey and cats, a theme emerges: women who don't meet the expectations of society's gender norms, are pushed aside, and the ramifications of their alienation. Lila – a cousin of Janet's father – has lived in the castle for decades and comes as part of the castle inheritance deal. Janet's mother despises Lila, finding her strange and unladylike, and makes it her duty to eliminate her from the family home. She eventually has her labeled as hysterical and sends her to an insane asylum, a decision that troubles no one but Janet.
Janet has an affinity for animals, rescuing and befriending anything that comes her way, including a jackdaw named Claws, who keeps her company and sleeps on her bedframe. She spends her days reading, roaming the sprawling grounds of her home, murmuring Greek and Latin to herself, and avoiding other humans as much as possible. Barker has an eye and ear for nature, and if you're not careful you'll find yourself daydreaming: feeling dew-soaked, smelling honeysuckle and canopies of wisteria, riding bareback on the moors, exploring coastal caves. 
I was so pulled into Janet's inner world, so touched by the intensity of her spirit and strength of her stubbornness, that I nearly forgot I was reading about a dead girl. The ending is haunting and bleak, but Janet's lifeforce outshines the darkness. She's officially a member of my canon of literary heroines. 
Eat
Eggplant tops my list of favorite summer veg; I just can't get enough! Grilled and piled high with herby salad, charred and churned into dip, steamed and treated simply with miso, honey and sesame. It's all good. Also: the varieties! My current obsession is the Paloma, a snow white variety with a super mellow flavor and silky flesh. The seasoning involves a purchase that I'd recommend even if I weren't associated with it. It's Magic Spice! My restaurant, Botanica, collaborated with the beloved brand CAP Beauty on a spice blend that's absolutely addictive in every way: Persian lime, green garlic, coriander and pink sea salt. Excellent on grilled veg, fish, and tofu, stirred into marinated beans, and bonkers delicious with eggplant. You can make the dish without it, of course, but it's better with it, and you'll use it endlessly. Purchase with the link above!
Charred Eggplant Spread (with Grilled Eggplant and Summer Salad)
Serves 2
Charred Eggplant Spread
1 large or 2 smaller eggplants (mine weighed 14 oz.)
2 garlic cloves, smashed
¼ cup plus 2 tablespoons tahini
Juice of 1 lemon
Kosher salt
Grilled Eggplant
2 Italian, Paloma or Japanese eggplants, sliced diagonally
Magic Spice
Evoo
Kosher salt
Salad
6 basil leaves, sliced into a chiffonade
1 handful tiny tomatoes
1 summer fruit, diced (white nectarine or peach; plums), or a handful of concord grapes
1 handful toasted and slivered almonds
Evoo
Maldon
Magic Spice to garnish
For the charred eggplant: Preheat your grill to 500F and char your eggplant until completely collapsed. Tip into a bowl, cover with a plate and steam for 10 minutes. When cool enough to handle, discard the eggplant skin and toss the flesh into a food processor. Add the rest of the ingredients and blend until incorporated. Season with sea salt. (You can do this on the stovetop, too: Simply char right on your grate until the eggplant skin is blackened and the entire fruit is collapsed.)
For the grilled eggplant: Lower your grill to 425F. Season your eggplant with a *very* generous amount of olive oil (eggplants soak up a LOT of oil; don't be shy!) and a few shakes of Magic Spice. Rub the marinade on both sides of the eggplant slices with your hands. Grill for about 16 minutes, rotating halfway / when you see grill marks. (You can roast the eggplant at 425F in lieu of grilling.) While the eggplant is grilling, make your salad. 
For the salad: Add everything to a small bowl and drizzle with olive oil and Maldon. Mix gently and set aside.
To plate: Using the back of a spoon, spread the eggplant dip in a crescent moon shape onto a plate. Lay the grilled eggplant slices atop, then scatter your salad on top of that. Sprinkle with Magic Spice and a pinch of Maldon.