Discover more from read, eat, repeat (with emily fiffer)
recipes, book recs, musings, etc.
Pie in the Sky + Frenetic Heretics
Vegan / GF Key Lime Pie + For Thy Great Pain Have Mercy On My Little Pain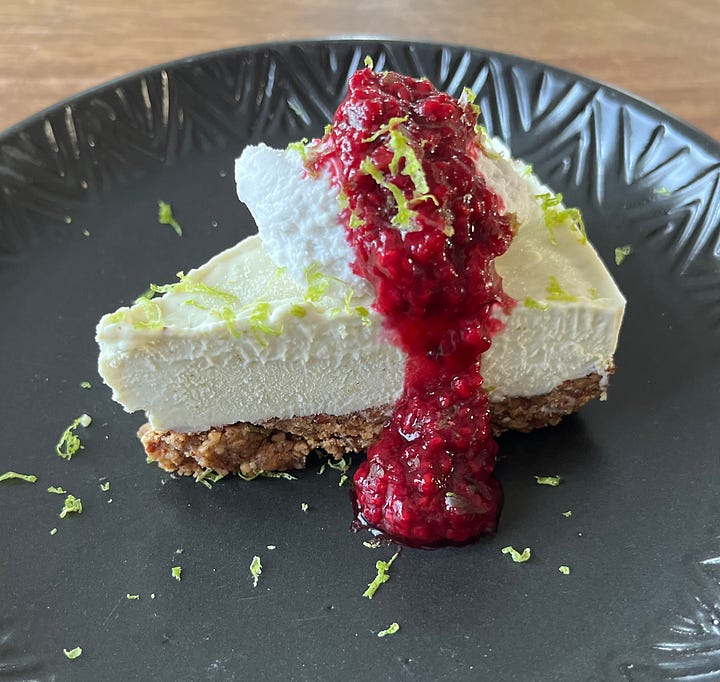 Read
For Thy Great Pain Have Mercy On My Little Pain, by Victoria MacKenzie, pub. 2023
Buy: Blackwells (A UK site that ships to the US! That isn't Amazon! Rejoice!)
Until I read Hamnet, a book that changed the way I think about writing, gardening and life, I mostly ignored historical fiction. It whet my appetite for the genre, though I actually hadn't read anything historical since. Then I picked up For Thy Great Pain Have Mercy On My Little Pain on my last trip to London. The title alone! Come on.
The book centers around two female mystics – Julian of Norwich and Margery Kempe – in the 14th century, a time of heresy-shaming, burning at the stake, and frightful patriarchy. MacKenzie introduces the book with one nugget of background: The women's stories were gleaned from translations of texts written by each. That's all you know going in.
MacKenzie toggles between the stories of Julian and Margery, women from different circumstances that shimmer with an inner duality. After Julian experiences an untold number of traumas (pestilence, familial loss), she experiences shewings, aka religious visions, which lead her to seek the life of an anchoress as a respite from her grief-ridden state of being. In Medieval times, anchorites pledged their allegiance to God by sacrificing their freedom, giving up their names, and literally anchoring themselves to their church; they lived in cells connected to the church with only a barred window to the outside world (the things we do for Jesus?). Locked in her cell, Julian cannot leave until her body abandons her soul; a maid, Sarah, delivers food through a gauze curtain. She's prohibited from touching or looking at anyone. Townspeople visit her window to ask for wisdom and prayers, which Julian freely gives – within reason; she keeps her shewings to herself, knowing full well that she'd be seen as a heretic if she shared her visions. 
At first, Julian's imprisonment wreaks havoc on her mental state; she's suffocated, fearful and doubts her choices. Gradually, though, she relents, allowing her faith to envelop her and bring her strength. Julian has a rich, intellectual mind. She learns to read and write as a child (rare and illegal for a girl during that time), and despite being banned from either in her cell, she convinces Sarah to bring her papers and a writing tool so she can put down her thoughts. She attempts to soothe the visitors who come to her window and eventually finds a sort of solace in her alienation.
Throughout Julian's thread, MacKenzie weaves in Margery, an outspoken, bold, lustful woman who has shewings of her own. Rather than stow them inside her deepest recesses, though, she shares them with the world, risking (and experiencing) familial shame, imprisonment, physical and sexual violence. Despite this, Margery refuses to be humiliated. Her visions are stronger than anyone's doubts, and she boldly challenges everyone who attempts to silence her. Married to a man she prays will stop sleeping with her (she's said to have had 14 children), she's exhausted by her home life but finds energy and zest in the strength and certainty of her visions, her ability to connect with others, and her belief that, despite the threat of death, she must share her wisdom with the world. She travels to surrounding towns in order to seek further counsel / connect with a higher power, meeting mostly blockades, but never backing down.
MacKenzie's obvious mastery of these women's stories seeps into you as you read; I couldn't put the book down. I won't give it away, but the finale — a feat of female rawness and bravery, beautiful and provocative — took my breath away. I've truly never read anything like this before and knew nothing about the 14th/15th centuries going in. It's fascinating (depressing?) contextualizing the ways women have been mistreated for centuries, and the manner in which religion (Christianity) has been used to weaponize male power. I could read a book three times as long on the topic, and am grateful this pint-sized novella served as my entry point.
Pairs well with: hair shirts, Lenten diets, interior monologues, secret scrawlings
EAT
Back to the realities of this century: It's 2023 and hot as … hell? The kind of hot where you can't eat anything except cucumbers and melon. The kind of hot where sticking your head in the freezer feels like a wild night out. The kind of hot that calls for a no-bake, fridge-cold key lime pie. Packed with piquant citrus and cooling coconut (according to my all-knowing Ayurvedic practitioner), requiring no turning-on-of-ovens, this pie is raw, gluten-free and vegan, but doesn't taste it (I promise). It might not be seasonal, but it's delicious, indulgent and will lower your body temperature. Sometimes, you can't ask for more than that.
Note: This crust is one of my go-tos for all things dessert. It's excellent with dark chocolate olive oil ganache (a recipe I'll share in the coming months), and I imagine it's delicious with all manner of fruity goodness, too (strawberries and cream, peaches and coconut, etc.). I like to keep batches in my fridge and spoon it plain for a sweet protein hit.
Key Lime Pie with Raspberry Compote (v, gf)
Makes 1 9" pie
Nut, Date + Coconut Crust
Makes 1 9" springform pan
1 hearty cup toasted almonds
1 hearty cup toasted pecans
¾ cup toasted coconut (flakes or chips)
3 tablespoons melted coconut oil
1 cup Medjool dates, pitted
Pinch of Maldon
Pie Filling
Fills 1 9" springform pan
1 cup cashews, soaked overnight or in boiling water for an hour, then drained
Zest + juice from 6 limes (about ⅔ cup)
½ cup melted coconut butter — I love CAP; (or melted coconut oil)
½ cup maple syrup
1 13.5 fl. oz. can coconut cream, refrigerated overnight, drained of any remaining coconut water at the bottom
2 cups raspberries (for quick compote; optional but delicious!)
To make the crust: Line the bottom of a springform pan with parchment and grease the sides. Combine all of the ingredients in a food processor and whizz until it forms a cohesive ball. Test by pressing a bit of the mixture together between your fingers; when it sticks, the crust is ready. You're looking for the nuts to be teeny tiny — no large pieces! Tip the crust into the pan and press down evenly on the bottom. Stick in the freezer to set for 15 minutes.
To make the filling: Add everything to a blender and whizz until fully blended. Taste! It should be eye-wateringly citrusy. If it's not, add another lime. Pour the filling over your crust, cover with foil, and refrigerate overnight to set. (You can also freeze it for a few hours and transfer to the fridge if you want to eat it faster.)
For the raspberry compote: Add the raspberries to a small saucepan and simmer until they release their juices and the fruit is broken down.
To serve, top each slice with a spoonful of compote and sprinkle of sea salt. Keep the pie in the fridge for up to 5 days, then freeze it (bring it to room temp first before slicing, about 30 minutes).