Discover more from read, eat, repeat (with emily fiffer)
recipes, book recs, musings, etc.
Summer Heroes + Cycling Mavens
Ratatouille + Full Tilt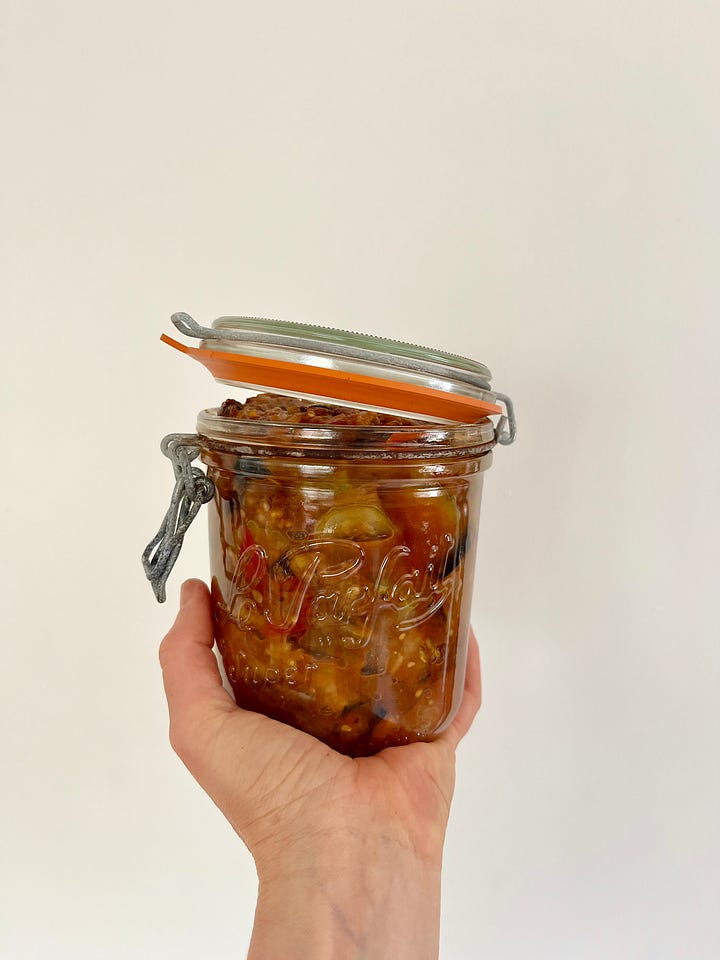 Read
Full Tilt: Ireland to India With a Bicycle by Dervla Murphy, pub. 1965
Buy: Used online
Well, it's happened. I *think* I've read my favorite book of the year! Unless something else sneakily jumps to take its place, Full Tilt will live at the top of the heap for 2023. I know I'm prone to hyperbole, but please believe me when I say: I smiled, giggled and shouted with glee throughout this entire book. I read multiple passages aloud to my weary partner because I felt incapable of keeping the sentences to myself. Everyone needs to know about this author, Dervla Murphy, and to celebrate her unbelievable accomplishments – publishing 26 travel books among them. So please: Buy her books and spread the gospel.
Murphy is the type of woman I geek out reading about: fiercely independent (the lady biked alone across Afghanistan in the 60s, for Christ's sake…), audacious (...with a pistol she wasn't afraid to use), open-hearted (she was repeatedly warned to be wary of foreigners yet made friends with almost everyone she met), energetic (she biked upwards of 120 miles a day, rain or shine, paved road or not) and upbeat – an example:
"KHALAT-E-GHIZLOT, 14 APRIL: I woke this morning at 4 a.m. and leapt energetically out of bed, stark naked, to see a fine bearded warrior in each of the other beds, which had been empty when I retired; happily they missed the fun, being sound asleep."
Full Tilt is Murphy's diary of the bicycle trip she took from Ireland to India. From age 10, when she received her first bike, she'd dreamt of this journey; at age 31 she finally accomplished it. It was the first in a lifetime of travels across the globe, by bicycle and otherwise, which she documented in more than two dozen travel books. I paused multiple times while reading to remind myself just how unlikely this story was. So much was at risk here: logistically (unpaved or nonexistent roads, incorrect maps, general disorganization due to lack of communication), environmentally (monsoons, dust storms, landslides, snakes), socially (women did not do these types of things at all, let alone solo). Yet she weathers every storm, literally and figuratively, intrepidly changing routes last-minute, getting soaked to the bone riding a cow across a river (while holding her bike! I'm not kidding!), braving disease, dehydration and extreme fatigue along the way. She befriends basically anyone who crosses her path who greets her with a smile, visiting their homes, drinking their tea, eating their salt and sugar when offered (both were gestures of extreme generosity, especially for someone who badly needed electrolytes). 
In addition to her breathless storytelling (wisecracking, truthful, not too self-serious), Murphy covers big-picture issues that, reading the book today, make me wonder how she saw the world later in life (she died only last year). She quickly takes to the lack of 'progress' in many of the areas she visits, admiring the residents' abilities to live full, rich lives with very little, and their seemingly endless acts of kindness and generosity despite having nothing to give. She laments modernization, from Colonialism to Jeeps, and there are multiple moments where she questions returning to her former life, having grown so accustomed to her pared down existence. 
After finishing the book I immediately devoured every podcast, article and even a tiny documentary made about Murphy (you can find it here). If you're looking to be inspired / buoyed (and who isn't these days?), please read this book.  
*I'd be remiss if I didn't mention there are two instances in the book where Murphy uses a derogatory word. She doesn't use it to describe a person, but she does use it as an adjective. Something to be aware of!
Eat
Murphy barely saw a vegetable on her trek. I feel even more grateful for my access to incredible produce after reading her book! As you can see, I'm still hanging onto summer vegetables tightly, but am starting to gently nudge them with fall techniques (cooking deeply and slowly rather than grilling or eating raw). So: ratatouille. A standout dish (and joyful, endlessly rewatchable film!), it's a rustic expression of a season ordinarily defined by crunch and acidity. Plus, it's beyond satisfying to make; you'll spend roughly over an hour by your stove, coaxing out sugars and moisture, until everything harmonizes at just the right note. The final product is deep, jammy and so versatile. In the past week I've folded it into eggs (weird?), spooned it onto garlicky toast and sweet corn polenta (basically just polenta with fresh sweet corn folded in), eaten it straight from the jar with a giant spoon. The trick with ratatouille is to cook every vegetable separately. Yes, it makes a difference, and yes, that will take a bit of time, but if you can find a spot in your day, take advantage. Though I've made multiple versions of ratatouille in the past, this particular one is inspired by the brilliant Clare de Boer, chef at Stissing House, King and Jupiter (yep, she's British; my obsession extends far beyond books!). Grilling the eggplant is genius – thanks, Clare!
Eking-out-Summer Ratatouille
Makes a big batch
1 large or 2-3 small eggplant, sliced into rounds
2 yellow onions, chopped
4 sweet summer peppers, chopped
3 summer squash, chopped
5 heirloom tomatoes, chopped
Kosher salt
First, grill the eggplant. Heat your grill to 425F, season your eggplant generously with evoo and salt, and grill until done. (You can also roast at 425F.) When cool, chop. While the eggplant grills, heat a large, heavy-bottomed / high-sided pan or Dutch oven to medium-high and add multiple glugs of evoo. Toss in the onions, season with salt and put the lid on. Saute until the onions are broken down, caramelized but not browned, about 12 minutes, stirring throughout. Add the peppers, return the lid and saute until the peppers are completely soft, another 10-12 minutes. After this step you're looking for a sweet, caramelized (but not mushy!) texture. Add the summer squash and a pinch of salt, stir well and turn the heat to high. With the lid off, cook until the squash releases its liquid and then evaporates, stirring throughout. This is the longest step of the process and can take up to 20 minutes, if not a few more. I like to stretch it to 25 or 30 mins sometimes, for flavor's sake, but it's not mandatory. Now add the tomatoes and cook (with the lid off) until they're broken down and saucy, about 12-15 minutes. Fold in the eggplant and let the whole thing simmer for about 8 more minutes or until your patience wanes. Taste! The result should make you want a chilled glass of Gamay: deep, dark yet still slightly acidic. Season with salt or red wine vinegar if you're looking for something a bit more bracing (I do without). The ratatouille will keep in the fridge for about a week, if not more. It's best served warm or at room temp.